Reducing waste and space with 5S
McLelland Cheese Packaging package cheese produced at other Lactalis locations, cutting large blocks into the required sizes, packaging them into airtight plastic and then packing the blocks into boxes for transportation to supermarkets.
Business Situation:
There was a very crowded, unsuitable and untidy working environment in the low care Case Packing.  There was far too much material around, poor visual management, inability to see issues in production – or indeed see the staff at times.
Excess material, e.g. boxes and shrink wrap, was transported multiple times and damaged, and the transportation on forklift trucks in a crowded environment was leading to machine damage.
Part rolls of shrink wrap were being piled up and wasted, with a current 7% wastage on materials.

Business Solution:
The challenge was to implement 5S (Workplace Organisation) in the case packing area and to use this as a pilot for rolling out 5S across the rest of the organisation.  It was recognised that organising the Case Packing area would have the biggest impact on the factory, and would be the biggest incentive to believe implementation was possible elsewhere.
A multi-functional team undertook five days of training in 5S, fully implementing 5S in the whole of the pilot area; and setting up a Production Board to show 5S audit results and Production data.
Results:
A fully trained 5S team, ready to roll out 5S across the whole organization.
Improved working conditions.
Reduction in material on the shop floor.
Anticipated reduction in material wastage of from 7% to 5%, which would be £60k saving, based on material cost of £3m pa.
Reduction in time looking for material, leading to an increase in time available by team leader to manage the lines.
Reduction in time needed for Stores personnel to restock area.
Improved visual management and communication between high and low care areas, and between production and stores.
Significant culture change starting in the organisation, as evidenced by the staff no longer making up as many boxes in advance, and also by cleaning their areas unprompted.
After six weeks, the area was still being maintained in the condition the 5S team handed it over to Production.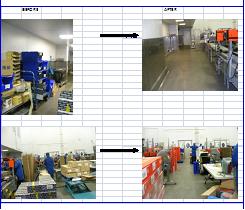 Scottish Manufacturing Advisory Service
Lighthouse Consultants is contracted to provide Lean Manufacturing support to clients on behalf of SMAS.
Categories: case studies, lean, private sector, reduce costs, training